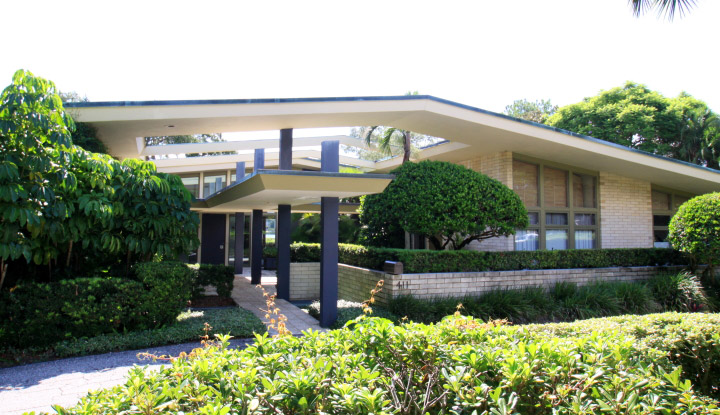 Knowlton Estate
411 Cordova Blvd. NE Snell Isle | St. Petersburg | 33704
Architecture: William B. Harvard Sr.
Offered By: Alona Dishy of Realty Executives Adamo
Built 1956, 6 Bedroom, Over 5700 Sq. Ft.
The Knowlton Estate, boasting a vast 5700 sq ft., is a sprawling one-level built on a premier lot. Built for John & Betty Knowlton and their family by architect William B. Harvard Sr. in 1956, the design of this Snell Isle estate was inspired by the work of mid century modern masters including Frank Lloyd Wright. It sits on 1.22 acres of waterfront on Snell Harbor. Form, function, balance, and sleek design, is the essence of house's design, created to connect the indoors and outdoors in all rooms. One of the first homes in area to be built with steel framing, it has strong vertical lines of floor-to-ceiling windows and doors, poured concrete and steel, brick trim, terrazzo floors, cypress woodwork, and coral pavers. High ceilings, deep eaves, a dramatic entry courtyard, and an indoor garden room that looks out to the angled roof lines that stretch across the vertical glass lines are other features. A composition of elements from the exterior and interior are juxtapositioned for a clean and functional, energy efficien t yet dramatic statement that transcends the eras and continues to inspire. The angles, proportions, and the play of open spaces are designed to enhance and incorporate with the park-like setting of expansive green space and water. Ponds, mature trees, a 60-foot lagoon-shaped pool, and garden walkways provide a constant connection to nature.